The South Sea Bubble
By John Carswell,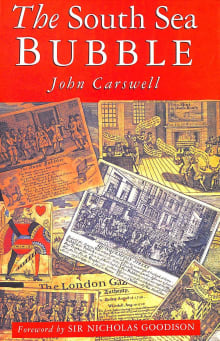 Why this book?
A classic account of an extraordinary 18th-century British financial and political scandal. The South Sea Bubble centred on the joint-stock South Sea Company, which was founded in 1711. The South Sea Bubble was an ambitious scheme to simultaneously pay off the British government's enormous debts while simultaneously getting rich in London's newly created stock market. The company was given a monopoly of trade with South America but had little prospect of success. The Bubble was an early Ponzi scheme that promised vast returns to early and well-connected investors.
Its collapse in 1720 ruined thousands of shareholders from all walks of life, many of whom had bought their shares on credit, and caused huge problems to banks and goldsmiths unable to collect the loans they had made to speculators to purchase stock. A public uproar ensued and the subsequent investigation revealed widespread fraud by insiders and corruption in the Cabinet.
---