Ten Feet Tall, Still
By Julie Suhr,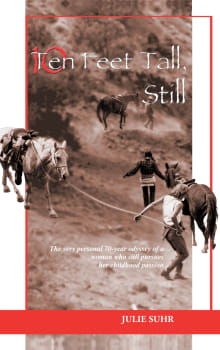 Why this book?
When I grow up, I want to be Julie Suhr. She has lived an incredible life, from childhood to old age, of adventure with horses. The sport of Endurance riding took her around the world, and horses have carried her on breathtaking unforgettable rides. Her evocative and poignant writing style will grab your heart and have you reading some of the chapters again and again. I found myself in my tent, the night before I rode the Tevis Cup, again reading her magical chapter about that ride.
Julie's book (and Julie herself) inspired me to write my first book. I've been lucky enough to emulate her life just a little bit in my world Endurance riding adventures with horses. Now in her 90's, Julie's still a horsewoman and still an inspiration to me.
---