Cleaning Excel Data With Power Query Straight to the Point
By Oz du Soleil,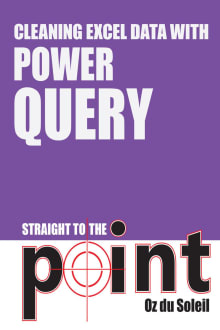 Recommended by Bill Jelen
From Bill's list on to go from Excel to Power Query and Power BI.
If you just want to find out if Power Query is for you, this short book, written by the entertaining host of the Excel On Fire YouTube channel will show you what is possible using Power Query. Oz will show you the types of everyday problems that can be solved using the Get & Transform section of the Data tab in Excel. Once you get a taste of what is possible, you will be ready to dive in with Ken Puls' book.
---