Jumpstart Snowflake
By Dmitry Anoshin, Dmitry Shirokov, Donna Strok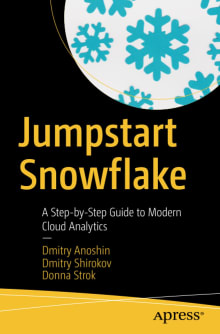 Book description
Explore the modern market of data analytics platforms and the benefits of using Snowflake computing, the data warehouse built for the cloud.
With the rise of cloud technologies, organizations prefer to deploy their analytics using cloud providers such as Amazon Web Services (AWS), Microsoft Azure, or Google Cloud Platform. Cloud…
Why read it?
1 author picked Jumpstart Snowflake as one of their favorite books. Why do they recommend it?
Valliappa Lakshmanan
In industry, your data is very likely to live within a data warehouse such as BigQuery, Redshift, or Snowflake. Therefore, to be an effective data scientist in the industry, you should learn how to use data warehouses effectively. 
Once you learn data warehousing and SQL with any one of these products, it is quite easy to pick up another. So which one do you start with?
You can use Snowflake on all three of the major public clouds. Because it's a standalone product, it is the most similar to a "traditional" data warehouse and can be picked up easily even…