Supercharge Power BI
By Matt Allington,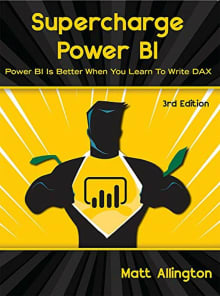 Recommended by Bill Jelen
From Bill's list on to go from Excel to Power Query and Power BI.
Have you ever built a pivot table in Excel? They are great at summarizing data. But they are lousy at answering certain questions. When your manager asks for anything slightly complicated, the Pivot Table Calculated Field is destined to fail. 
The Microsoft team who built the Power Pivot calculation engine realized that Calculated Fields were the weak point of pivot tables. They created an amazing new formula language that could let you answer the hard questions like how are we doing on same-store sales through the first two weekends of December?
The formula language – Data Analysis Expressions – or DAX is powerful but confusing. Matt Allington, another former data analyst has figured out how to use DAX to come up with all of those industry-standard calculations that he used to need as a manager at Coca-Cola. 
He walks you up the DAX learning curve in this book.
---