Landscape Turned Red
By Stephen W. Sears,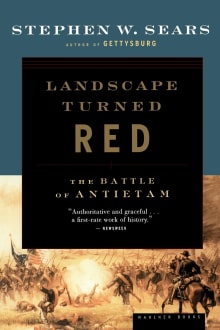 Recommended by Lance Weller
From Lance's list on American Civil War history reads like literature.
The American Civil War was a war and war means fighting and fighting means battles so it is no wonder that the vast bulk of Civil War histories are battle studies. The best ones fold in events and personalities beyond the reach of individual battlefields to provide a gestalt view of the era as a whole and Sears' book is, indeed, one of the best. Much depended on Antietam—from the ongoing character of the conflict to Lincoln being emboldened enough to issue the mighty Emancipation Proclamation—and Sears deftly guides his narrative through the astonishing turns of fate and chance that resulted in a narrow Union victory General McClellan called his "masterpiece of art" (spoiler: it wasn't).
---