Landscape Turned Red
By Stephen W. Sears,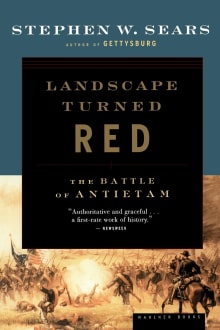 Book description
"The best account of the Battle of Antietam" from the award-winning, national bestselling author of Gettysburg and Chancellorsville (The New York Times Book Review).

The Civil War battle waged on September 17, 1862, at Antietam Creek, Maryland, was one of the bloodiest in the nation's history: in this single day,…
Shepherd is reader supported. We may earn an affiliate commission when you buy through links on our website. (learn more)
Why read it?
3 authors picked Landscape Turned Red as one of their favorite books. Why do they recommend it?
David A. Welker
Crafted like a well-told story, Sears' now classic volume was my first foray into the Battle of Antietam lo these many years ago. It offers readers an engaging, generally accurate overview of the background, events, and results of America's costliest day, September 17, 1862. Although its three-phase, framing approach to the battle has been surpassed by new interpretations, it remains a useful starting point for those wishing to learn the basics and if readers seek only one work to read on Antietam, this is the book to choose. Every student of the battle—casual, serious, or scholarly--will want to have read…
Lance Weller
The American Civil War was a war and war means fighting and fighting means battles so it is no wonder that the vast bulk of Civil War histories are battle studies. The best ones fold in events and personalities beyond the reach of individual battlefields to provide a gestalt view of the era as a whole and Sears' book is, indeed, one of the best. Much depended on Antietam—from the ongoing character of the conflict to Lincoln being emboldened enough to issue the mighty Emancipation Proclamation—and Sears deftly guides his narrative through the astonishing turns of fate and chance that…
Gerald Gillis
This definitive non-fiction work on the Battle of Antietam, written by one of the Civil War's most distinguished authors, is my favorite book on the epic Battle of Antietam. Renowned historian Stephen W. Sears displays his considerable talents in describing what became the single bloodiest day in American history on September 17, 1862. Over 23,000 casualties were claimed in a battle that essentially ended in a stalemate with both sides badly diminished and thoroughly exhausted. Sears draws upon letters, diaries, and dispatches to paint a picture of a day of shocking, murderous carnage for the officers and men who fought…