World Revolution, 1917-1936
By C.L.R. James,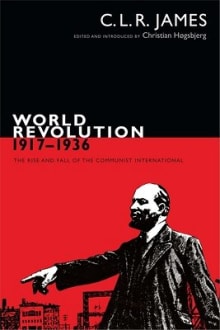 Book description
Written in 1937, World Revolution was a contemporary attempt to synthesize the experience of the revolutionary movement after World War I. James's analysis of the Soviet Union bears a surprising freshness, and many of his predictions have proved amazingly accurate.
Why read it?
1 author picked World Revolution, 1917-1936 as one of their favorite books. Why do they recommend it?
Oleksa Drachewych
C.L.R. James wrote the first histories of the Comintern in English, first published in 1937. He wrote it also during a particularly chaotic period of the interwar period. Italy invaded Abyssinia, Republicans (supported by communists) fought the Nationalists in the Spanish Civil War, Hitler continued to consolidate his power, and the Soviet Union was in the midst of the Great Terror. Taking a critical tone, informed by his support for Trotskyism, and his belief that Stalinism had led to a series of missed opportunities for the revolutionary moment, James's book remains an important book on the Comintern. On one hand,…