Women's Life and Work in the Southern Colonies
By Julia Cherry Spruill,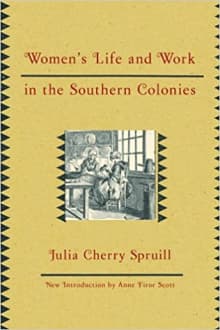 Book description
Out of a wealth of documentation, and often from the words of the people themselves, Spruill's account brings these women's lives out of the shadows-opening a usable past that was not there before.
In the words of Arthur Schlesinger, Sr., it is "an important contribution to social history to which…
Why read it?
2 authors picked Women's Life and Work in the Southern Colonies as one of their favorite books. Why do they recommend it?
Ida Flowers
Julia Cherry Spruill is herself a fascinating character, one who worked in her husband's shadow most of her life, an academic wife, as it were, creating research methods for the decade-long project of examining women's experiences in the New World. The book, after being published, was largely ignored for thirty years, until it was published in paperback at a time when women's history was attaining status as an academic field. Women's Life and Work is overflowing with details concerning women's activities, clothing, food and drink, childbearing, and death, with personal anecdotes of their feelings about it all. 
Lori Benton
A classic work on the social history of women in the colonial south (originally published in 1938), this book examines the daily lives of 17th and 18th century American women, how they "lived and worked and passed their time; what they ate and what they read; how courtships were conducted, who married whom, and the perils and joys of married life." Spruill drew extensively from colonial manuscripts, court records, and newspapers for firsthand accounts, because in 1938 there were few (if any) works of this sort to draw from. In my research for novels I try to find a source…