Will Giraffe Laugh?
By Hilary Leung,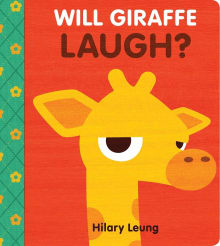 Book description
You loved Will Bear Share?, Will Sheep Sleep?, and Will Ladybug Hug?. Now only one question remains: Will Giraffe Laugh?
One giraffe.One bad mood.One timeless question: Will Giraffe Laugh?Meet Giraffe. Giraffe loves to laugh, but today is different. Giraffe is cranky! All of Giraffe's friends want to cheer him up…
Why read it?
1 author picked Will Giraffe Laugh? as one of their favorite books. Why do they recommend it?
Brian Russo
The fact that I've read this book to my son nearly every night for the past year and am not sick of it yet is a testament to how charming it is. This book is about a group of friends and one of them, Giraffe, is very grumpy. The friends take turns in trying, then failing, to cheer him up, until finally they all become sad and it's up to Giraffe to cheer up his friends. The story is a great reminder that our emotions are not just ours. They're contagious and affect those we love most. Also, if I…