We, the Navigators
By David Lewis, Derek Oulton,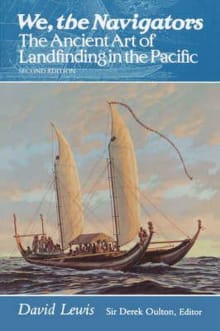 Book description
This new edition includes a discussion of theories about traditional methods of navigation developed during recent decades, the story of the renaissance of star navigation throughout the Pacific, and material about navigation systems in Indonesia, Siberia, and the Indian Ocean.
Why read it?
2 authors picked We, the Navigators as one of their favorite books. Why do they recommend it?
Dan E. Feltham
This is really a one-of-a-kind scientific textbook. Though technical, it reads like an adventure novel. Lewis was part scientist, part adventurer, part sailor, and an excellent author. The book is full of charts, sketches, and photographs that take you to the South Pacific atolls of Polynesia and Micronesia. This book is not for the day sailor. Written in 1972, Lewis learns and masters the art of ocean navigation from native-born seafarers, like Tevake, who in the middle of nothing knew exactly where he was. He and others learned the skills from their fathers, using only the stars, wind patterns, reflective…
Christina Thompson
First published in 1972, We the Navigators is a classic of modern Polynesian history. Lewis, who died in 2002, was a British physician and sailor who in 1967 quit his day job to sail around the Pacific studying traditional navigation. Based on interviews with navigators in the Santa Cruz and Caroline Islands, as well as many hours of firsthand observation, We, the Navigators represents the first attempt to codify and document the non-instrumental navigational knowledge and practices of the world's most accomplished seafarers.