The Wrong of Rudeness
By Amy Olberding,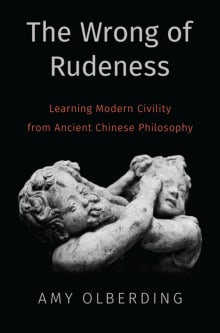 Book description
In a time of fractious politics, being rude can feel wickedly gratifying, while being polite can feel simple-minded or willfully naive. Do manners and civility even matter now? Is it worthwhile to make the effort to be polite? When rudeness has become routine and commonplace, why bother? When so much…
Why read it?
1 author picked The Wrong of Rudeness as one of their favorite books. Why do they recommend it?
Stephen C. Angle
In this deeply personal book, philosopher Amy Olberding shows how ancient Confucians can help us to grasp the centrality of manners and civility to good lives today. The book has important lessons for anyone who has ever struggled to be polite—or wondered whether it's worth the bother. It's also frequently hilarious.