The Worm Ouroboros
By E.R. Eddison, Keith Henderson (illustrator),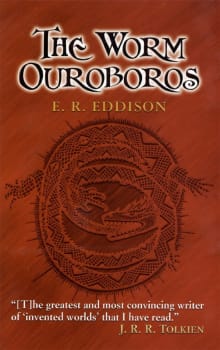 Book description
"An eccentric masterpiece" — Ursula K. LeGuin
"A new climate of the imagination" — C. S. Lewis
"A masterpiece" — James Stephens
This is the book that shaped the landscape of contemporary science fiction and fantasy. When The Lord of the Rings first appeared, the critics inevitably compared it to…
Why read it?
2 authors picked The Worm Ouroboros as one of their favorite books. Why do they recommend it?
John Triptych
Even though The Lord of the Rings is recognized as the classic of high fantasy, Tolkien himself was deeply influenced by Eddison's book. It is here that the first concepts of the hero's journey, while encased in a thrilling saga of protagonists against impossible odds are sown, and of the great worldbuilding that encapsulates such an epic.
Even though the story itself (a never-ending war between the honorable demon princes and an immortal witch king) is pure simplicity, Eddison added an amazing twist: he wrote it in 16th-century English. If you can imagine William Shakespeare writing Lord of the Rings…
Stephen Morillo
Historical novels still too mundane? Read E.R. Eddison's fantasy classic. An epic tale of war and heroism told in a fabulous faux-17th century English style, The Worm also features some of the best, most realistic battle scenes in all of fantasy literature -— check out the Battle of Krothering Side for its action, tactical acumen, and narrative brilliance. I have several times taught a class on "Swords, Sorcery, and Reality" that brings classic fantasy literature into dialogue with medieval primary sources, and Eddison regularly ends up as the student's favorite, even beating out Tolkien (whose battle narratives are themselves excellent!).…