The Virtues of War
By Steven Pressfield,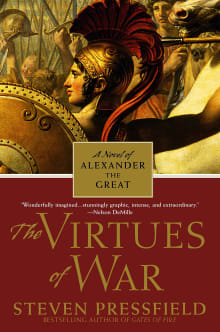 Book description
I have always been a soldier. I have known no other life. So begins Alexander's extraordinary confession on the eve of his greatest crisis of leadership. By turns heroic and calculating, compassionate and utterly merciless, Alexander recounts with a warrior's unflinching eye for detail the blood, the terror, and the…
Why read it?
3 authors picked The Virtues of War as one of their favorite books. Why do they recommend it?
Robert Patrick Lewis
Those of us who have served in war and combat know the most powerful aspect of the experience that stays with us forever – the bonds forged between Brothers in Arms through the greatest of adversity.
In this first-person narrative recounting of Alexander the Great's conquests of the known world, Pressfield not only outlines the strategic genius that made Alex of Macedon so successful, but his leadership style and warrior ethos that motivated his men to follow him to the ends of the earth. For fans of military history, strategy, and the bonds forged between warfighters, this book is a…
Sam Foster
As a teenager Alexander, to become The Great, is given to one of his father's warriors – Telamon – to go on a life-threatening winter wolf hunt. A risk of building character and spirit his father is willing to take. Later in life, during Alexander's conquest, Telemon never wishes to rise above a colonel's rank. He wants to remain in the midst of the fighting.
When Alexander finally departs India to end his conquests Telamon leaves him to go off with a group of monks. When Alexander asks why that choice Telamon responds, "I schooled you as a boy Alexander, to be superior…
Steven R. Perkins
The internet has made possible what used to be only a dream for readers. Now we can contact our favorite authors, which is what I did while in the middle of this book. I emailed Steven Pressfield just to tell him how much I loved his battle descriptions, and he wrote back thanking me and saying that people usually emailed to ask something of him rather than to compliment his writing. As a former Marine, he knows how to bring ancient battles alive in the modern world. The Alexander he gives us is one you can easily imagine soldiers following…