The Science of Influence
By Kevin Hogan,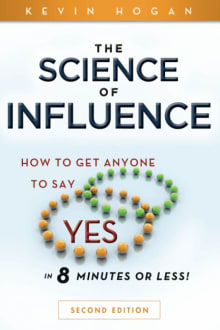 Book description
Get customers, clients, and co-workers to say "yes!" in 8 minutes or less This revised second edition by a leading expert of influence continues to teach a proven system of persuasion. Synthesizing the latest research in the field of influence with real-world tested experiences, it presents simple secrets that help…
Why read it?
2 authors picked The Science of Influence as one of their favorite books. Why do they recommend it?
Marty Boardman
How do you feel about being a salesperson and influencer? Because if you're going to be a real estate investor you must have basic sales and marketing skills. You'll need them to raise capital, negotiate with buyers and sellers, and even to lease your properties if you're a landlord. In Kevin Hogan's book you'll discover how people think and make their decisions. He writes, "once we know our prospects' needs, wants, and desires are, we can use this information to prepare a message that firmly impresses on the mind how we can help them."
Philip Graves
Lots of people have written about nudging and influence, but arguably few have studied it as tenaciously or with such a focus on its practical application as Kevin Hogan. As is so often the case with books, it was just an online retailer's serendipitous algorithms that meant I stumbled across it. The author's approachable style and use of practical examples (albeit often framed from a selling perspective) meant I was instantly equipped with a new way of seeing the world around me and of understanding why consumers make the choices they do. Whilst some of the behavioural science studies he…