The Pyrocene
By Stephen J. Pyne,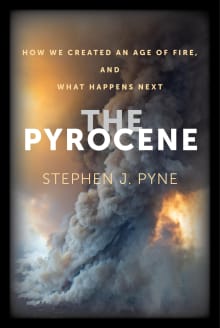 Book description
A provocative rethinking of how humans and fire have evolved together over time-and our responsibility to reorient this relationship before it's too late.

The Pyrocene tells the story of what happened when a fire-wielding species, humanity, met an especially fire-receptive time in Earth's history. Since terrestrial life first appeared, flames…
Why read it?
1 author picked The Pyrocene as one of their favorite books. Why do they recommend it?
Luke Heaton
Surprisingly enough, our planet has been home to horse-shoe crabs for longer than it has had fire. After all, you cannot have fire without atmospheric oxygen (a product of photosynthesis), and until the evolution of land plants, there was no fuel for lightning sparks to ignite. As Stephen J. Pyne eloquently describes, humanity's exceptional relationship to fire has literally shaped our world, from the development of small guts and big heads through cooking food, to climbing the food chain by cooking landscapes, to harnessing the world-changing fire-power of fossil fuels. This insightful overview of human history puts forward the compelling…