The Psychopath Inside
By James Fallon,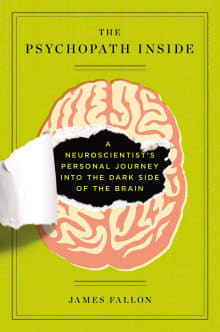 Book description
"Compelling, essential reading for understanding the underpinnings of psychopathy." — M. E. Thomas, author of Confessions of a Sociopath

For his first fifty-eight years, James Fallon was by all appearances a normal guy. A successful neuroscientist and professor, he'd been raised in a loving family, married his high school sweetheart,…
Why read it?
1 author picked The Psychopath Inside as one of their favorite books. Why do they recommend it?
Jeri Fink
Can you imagine being a neuroscientist who specializes in identifying psychiatric disorders from brain scans, finds a scan of a psychopath, and it's his? That's what happened to Dr. James Fallon, leading to this book that discusses the inner workings – psychological and physiological – of a psychopath. Merging genetic, structural, and environmental factors, Fallon brings you "into the dark side of the brain," explaining the science and his personal experience as a non-violent psychopath. He examines psychopathy at all levels, helping you understand the true nature from "functional" to criminal. I could not put this down – it's a…