The Madness of Lord Ian Mackenzie
By Jennifer Ashley,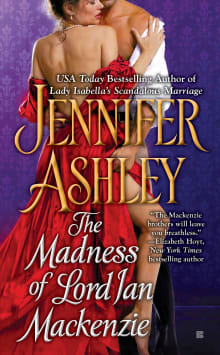 Book description
A woman is drawn to a dangerously intruiging man in this unique historical romance from New York Times bestselling author Jennifer Ashley.

It was whispered all through London Society that Ian Mackenzie was mad, that he'd spent his youth in an asylum, and was not to be trusted—especially with a…
Shepherd is reader supported. We may earn an affiliate commission when you buy through links on our website. (learn more)
Why read it?
2 authors picked The Madness of Lord Ian Mackenzie as one of their favorite books. Why do they recommend it?
Jennifer Trethewey
I've often wondered what happened to people who didn't comfortably fit into society prior to modern psychiatry. A condition we now might label as "on the spectrum" was viewed as madness during the Regency. Families would often place their loved ones in asylums thinking they were being kind. Needless to say, asylums were not nice places during the 1800s. Jennifer Ashley tackles the scenario beautifully in The Madness of Lord Mackenzie. After spending many years in an asylum, Ian's brothers rescue him. But Ian is lost in a world that makes no sense until he meets Beth. Oh! The…
Rose Prendeville
I fell in love with Ian Mackenzie in about ten seconds and kept falling in love with him over and over throughout the book. Written as a character on the spectrum living in a time when such things were not well understood, he has a very difficult time connecting with people, which makes his bond with his brothers, and his bond with the heroine Beth, all the more delicious. Beth, too, is a character to love. She's swept off her feet just as quickly as I was by Ian's intense infatuation, but she's such a strong character, willing to go…