The Little Paris Bookshop
By Nina George,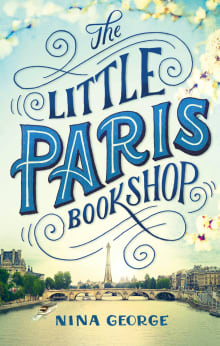 Book description
The international bestseller, translated from the German by Simon Pare.

On a beautifully restored barge on the Seine, Jean Perdu runs a bookshop; or rather a 'literary apothecary', for this bookseller possesses a rare gift for sensing which books will soothe the troubled souls of his customers.

The only person…
Why read it?
3 authors picked The Little Paris Bookshop as one of their favorite books. Why do they recommend it?
Janet Hubbard
This is a novel that I read in one day, warming to the grieving protagonists who have found each other, and particularly struck by their first meal together—fish poached in cream and white wine, new potatoes roasted in garlic and rosemary, pears and cheese, and with a beautiful French wine to accompany it. In my mind romance can't exist without meals prepared from scratch and wine to go with it. The other secret ingredient in the novel is books, and the combination of food and wine, a romance, and a love of books gives this book a permanent place in…
Phaedra Patrick
On a restored barge on the Seine, Jean Perdu runs a bookshop where he uses his special gift for sensing which books will soothe his customers' troubles. He decides to cast off and set sail on an unusual journey to seek out his lost love of twenty years, meeting unusual characters along the way and learning how to live and love again. Wise, charming, and atmospheric, the novel offers the perfect escape to Paris without having to leave your own armchair. 
Annemarie Rawson
This is a moving story of an eccentric bookseller who has his store on a barge. He seems to have just the right book to help each individual in their own lives while he is coming to terms with a past love and discovering more about himself and life. He also visits many lovely French villages on his travels on the barge.