The Land of Yesterday
By K.A. Reynolds,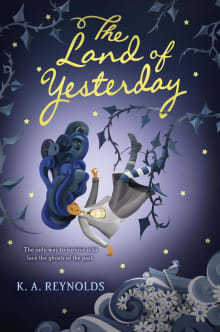 Book description
A tender and fantastical adventure story perfect for fans of Coraline.
After Cecelia Dahl's little brother, Celadon, dies tragically, his soul goes where all souls go: the Land of Yesterday—and Cecelia is left behind in a fractured world without him.
Her beloved house's spirit is crumbling beyond repair, her father…
Why read it?
3 authors picked The Land of Yesterday as one of their favorite books. Why do they recommend it?
Ellen Mulholland
How do you recover from believing you caused your brother's death? Cecelia has no idea. When Celadon's soul drifts into the Land of Yesterday, their entire house goes into mourning. Cecelia must reconcile her feelings before her world collapses and she ends up a lost soul forever, too. Reynolds expertly handles loss and regret in this magical tale for middle grade readers and up.
Fiadhnait Moser
As a chronic daydreamer myself, I am drawn to books that make me feel as though I am being allowed to see into an author's mind and imagination. Reynolds is a master of lyrical, whimsical storytelling. Each sentence she writes is simply poetry, as if drawn straight from her inner world of dreams. She delicately tackles issues of trauma through magic and imagination, making her story and its themes accessible and extremely important to young readers.
Hayley Chewins
This book is unlike anything you will ever read—and, at the same time, it's so comforting and familiar. When Cecelia Dahl's little brother dies, her mother goes to the Land of Yesterday to bring him back. It's up to Cecelia to rescue her mother before she loses her, too. This is a story about grief and forgiveness and irrecoverable loss. But it is also a story about gnomes who fly in hot-air balloons and a girl with sentient blue hair and giant cats and moaning houses and children who turn into paper. It's like a Miyazaki movie for the brokenhearted.…