The European Discovery of America
By Samuel Eliot Morison,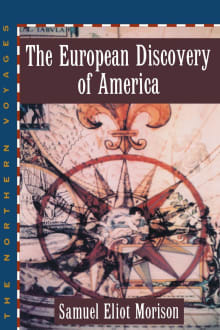 Book description
The late Samuel Eliot Morison, a former U.S. Navy admiral, was also one of America's premier historians. Combining a first-hand knowledge of the sea and transatlantic travel with a brilliantly readable narrative style, he produced what has become nothing less than the definitive account of the great age of European…
Shepherd is reader supported. We may earn an affiliate commission when you buy through links on our website. (learn more)
Why read it?
2 authors picked The European Discovery of America as one of their favorite books. Why do they recommend it?
David Boyle
The classic account of the voyages from Leif Erikson and the Vikings onwards, and including Columbus, Cabot (father and son), Vespucci, and Francis Drake. By an American admiral who spent his retirement retracing many of the voyages himself. He was a great admirer of Columbus, which has to be taken with a pinch of sea salt these days – but is still a stirring read.
Mary Stockwell
Even before the New World was discovered, people dreamt of a legendary place west of the Atlantic. In his beautiful book, The European Discovery of America: The Northern Voyages, Samuel Eliot Morison tells the story of the many adventurers from Western Europe, starting with Saint Brendan and ending with Sir Walter Raleigh, who risked everything to find this place. Morison did this not just by studying every primary source he could find on these men, but by sailing his own boat or flying in a small airplane over the same routes they took. To this day, I can't hear…