The Comedians
By Graham Greene,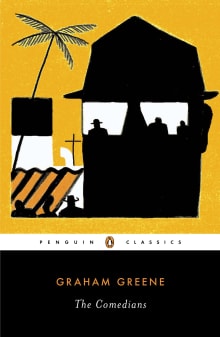 Book description
Three men meet on a ship bound for Haiti, a world in the grip of the corrupt "Papa Doc" and the Tontons Macoute, his sinister secret police. Brown the hotelier, Smith the innocent American and Jones the confidence man are the "Comedians" of Graham Greene's title.
Shepherd is reader supported. We may earn an affiliate commission when you buy through links on our website. (learn more)
Why read it?
3 authors picked The Comedians as one of their favorite books. Why do they recommend it?
Cynthia Watson
Set in Haiti under the rule of François "Papa Doc" Duvalier and his secret police, the Tontons Macoutes, this novel explores political repression and terrorism through the figure Mr. Brown. Brown, a British ne'er-do-well who has inherited a failing hotel near the capital, Port-au-Prince, narrates.
The Comedians is a novel of character. Each of the leading characters reveals an unforeseen facet of personality: a naive fool who was once a candidate for U.S. president proves to be compassionate and courageous; a lying, cowardly gunrunner dies a hero; and a former Freedom Rider rises above her simple liberalism to unwittingly save…
Michele Wucker
The first time I went to Haiti, I stayed at the Hotel Oloffson, which appeared as the "Hotel Trianon" in this classic 1966 novel by a literary legend, later a movie starring Richard Burton and Elizabeth Taylor. The Comedians depicts Haiti under the rule of the dictator "Papa Doc" Duvalier and his feared trenchmen, the tontons macoutes, named for the feared Uncle Strawsack of Haitian folklore (and the predecessors of FRAPH). Duvalier of course was long gone, but I briefly met the gossip columnist, Aubelin Jolicoeur, who inspired Greene's character Petit Pierre. In the novel, the white Victorian "gingerbread"…
Thomas Bardenwerper
Three American men meet aboard a ship destined for 1950s Port-Au-Prince. These men, each of whom is a small-time big shot with inconsistent backgrounds, arrive in Haiti as "Papa Doc" Duvalier consolidates power. Much of this timeless story takes place in and around a darkly mysterious hotel that caters to an ebbing flow of foreigners. I say "timeless" because over half a century has passed since Greene wrote The Comedians, and the country of Haiti remains a mystery to that small subset of Americans that has deigned pay attention to it.