The Coddling of the American Mind
By Greg Lukianoff, Jonathan Haidt,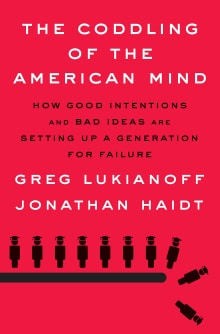 Book description
New York Times Bestseller * Finalist for the 2018 National Book Critics Circle Award in Nonfiction * A New York Times Notable Book * Bloomberg Best Book of 2018

"Their distinctive contribution to the higher-education debate is to meet safetyism on its own, psychological turf . . . Lukianoff and…
Shepherd is reader supported. We may earn an affiliate commission when you buy through links on our website. (learn more)
Why read it?
3 authors picked The Coddling of the American Mind as one of their favorite books. Why do they recommend it?
Madhur-Nain Webster
This book is so different from the other books on my list. I just finished reading this book recently. I found it completely fascinating. It talks about how our newer generation has changed how we listen, talk and feel. I find that this is happening in relationships as well. This book is a weave of communication, how we take things way too personally and how this affects how we interact with others in life and how we relate to our feelings. I think this book can help how we listen, share and have internal boundaries. While reading this book I…
Keith E. Stanovich
Lukianoff and Haidt do us a service by clearly differentiating two types of identity politics.  Common-humanity identity politics emphasizes a universalistic common ground to which we should aspire, but points out that certain groups are being denied rights. In contrast, common-enemy identity politics views society as composed of huge social forces working on large demographic categories.  The forces are power relations making people privileged or oppressed depending upon the conjunction of demographic categories (race, gender, sexual orientation, etc.) that characterize them.
The power politics of the common-enemy strategy is zero-sum:  it assumes that a gain for designated victim groups necessarily…
Carol Tavris and Elliot Aronson
This book offers an overarching analysis of good ideas gone wrong—across the political spectrum. Among young people, rates of anxiety, depression, and suicide are rising, and that was before the pandemic. Liberals and conservatives alike are finding it difficult, if not impossible, to expose themselves to ideas from the "other side," taking cover in shouting down the opposition with the justifications of the righteous. Between the rising prevalence of censorship and self-censorship on one hand, and the rising incidence of hate speech and hate crimes on the other, how do we navigate? Law professor Greg Lukianoff and social psychologist Jonathan…