The Call
By Os Guinness,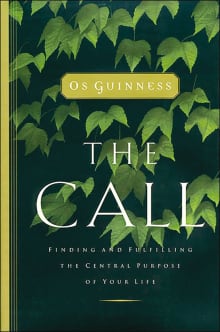 Book description
The Call continues to stand as a classic, reflective work on life's purpose. Best-selling author Os Guinness goes beyond our surface understanding of God's call and addresses the fact that God has a specific calling for our individual lives.
Why am I here? What is God's call in my life?…
Why read it?
2 authors picked The Call as one of their favorite books. Why do they recommend it?
Gary Harpst
Os Guiness is my favorite author when it comes to thinking about the call of God and our most fundamental purpose in life.
He tears down the false dichotomy of the sacred versus the secular with regard to living in fullness. Whether baking bread, plowing the soil, or preaching a sermon, a life lived in and for Christ is holy.
We are all on a lifelong adventure to grow in the knowledge and relationship with our Creator. With this perspective, we can live through the difficult and the good times with equal joy.

Harry Schaumburg
I have counseled 100s of pastors from across the U.S. from many different denominations, and more often than not, they were serving in ministry for what they could personally gain. I see that danger as an occupational hazard. The Call gives the clearest definition of what the call of God truly is. I was able to understand that in my own ministry, as Os Guinness states, I have nothing to gain, nothing to prove, and nothing to lose, except to hear from my Lord, "well do, good and faithful servant." In all service and love of others, this is the…
Our community of 9,000+ authors has personally recommended 100 books like The Call.
5 book lists we think you will like!
Interested in Christianity, God, and the Bible?
9,000+ authors have recommended their favorite books and what they love about them. Browse their picks for the best books about Christianity, God, and the Bible.
God
Explore 216 books about God