The Brightest Stars
By Fred Schaaf,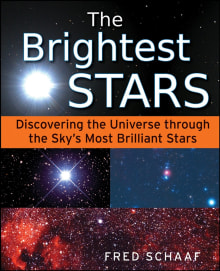 Book description
Fred Schaaf is one of the most experienced astronomical observers of our time. For more than two decades, his view of the sky-what will be visible, when it will be visible, and what it will look like-has encouraged tens of thousands of people to turn their eyes skyward.
—David H.…
Why read it?
1 author picked The Brightest Stars as one of their favorite books. Why do they recommend it?
David A. Aguilar
The stars have captivated hunter-gatherers, artists and astrologers, sages and scientists, romantics, and civilizations since the beginning of human time. 
In this book we encounter the twenty-one brightest stars visible from earth and dig into their remarkable secrets. Did you know some giant stars spin so fast they flatten out like eggs? There are stars that pulse back and forth like beating hearts? And some stars are cosmic interlopers passing through our Milky Way galaxy on their way back into the void of forever space. This is my go-to book when I want to refresh my imagination with wondrous facts…