The Book of Barely Imagined Beings
By Caspar Henderson,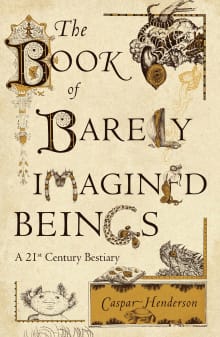 Book description
From Axolotl to Zebrafish, discover a host of barely imagined beings: real creatures that are often more astonishing than anything dreamt in the pages of a medieval bestiary. Ranging from the depths of the ocean to the most arid corners of the earth, Caspar Henderson captures the beauty and bizarreness…
Why read it?
1 author picked The Book of Barely Imagined Beings as one of their favorite books. Why do they recommend it?
Sam Kean
Imagine a medieval bestiary of whimsical creatures, but with a twist. Instead of being imaginary, the animals here really exist. The book moves alphabetically from axolotl to zebrafish, with a new delight on every page. It's a perfect reminder of what biologist J.B.S. Haldane once said: that the universe is not only stranger than we imagine, it's stranger than we can imagine.