The Beast Player
By Nahoko Uehashi, Cathy Hirano (translator),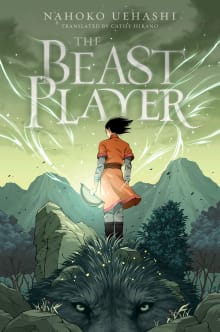 Book description
Elin's family have an important responsibility: caring for the fearsome water serpents that form the core of their kingdom's army. So when some of the beasts mysteriously die, Elin's mother is sentenced to death as punishment. With her last breath she manages to send her daughter to safety.

Alone, far…
Why read it?
2 authors picked The Beast Player as one of their favorite books. Why do they recommend it?
Henry Lien
This wonderful Asian fantasy (the first of a duology) is about a young woman who has the rare ability to control flying wolf-like creatures. This ability plunges her into the middle of political intrigue as forces push her to weaponize this ability and use the beasts as battle mounts. The most unique thing about the book is how it questions the ethics of humans using animals for their purposes. Most fantasies unquestioningly use animal mounts as weapons/vehicles or at most use an animal's death to trigger a cheap emotional response. This book puts the ethics of using magnificent creatures for…
Kalyn Josephson
Have you ever wished you could talk to animals? In this story, Elin has the rare ability to communicate with the dangerous royal beasts that guard her queen, a power that captures the equally dangerous royals' attention. Elin must navigate the treacherous waters between those who would use her abilities for war, and the beasts she's grown to care for, if she and her beloved beasts are to survive.
This book draws heavily on ecology in a way that had my biologist brain buzzing with interest, and made for a unique take on the fantastical animal bond trope.