The Age of Federalism
By Stanley Elkins, Eric McKitrick,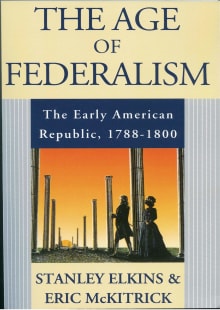 Book description
When Thomas Jefferson took the oath of office for the presidency in 1801, America had just passed through twelve critical years, years dominated by some of the towering figures of our history and by the challenge of having to do everything for the first time. Washington, Hamilton, Madison, Adams, and…
Why read it?
1 author picked The Age of Federalism as one of their favorite books. Why do they recommend it?
Jeanne and David Heidler
Exhaustively researched, this books illuminates the brief time in early U.S. history when Federalism dominated American politics. It remains the standard source on the Federalists' political philosophy, the understanding of which is crucial to comprehending everything political that follows it.