The 900 Days
By Harrison Salisbury,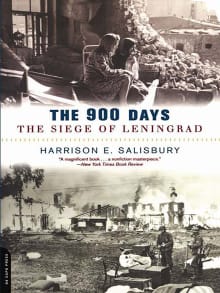 Book description
The Nazi siege of Leningrad from 1941 to 1944 was one of the most gruesome episodes of World War II. Nearly three million people endured it just under half of them died. For twenty-five years the distinguished journalist and historian Harrison Salisbury pieced together this remarkable narrative of villainy and…
Why read it?
2 authors picked The 900 Days as one of their favorite books. Why do they recommend it?
Steven H. Jaffe
Leningrad (now St. Petersburg) endured one of history's great sieges when Hitler's armies surrounded it in 1941. By the time the Red Army liberated it in 1944, the city's thriving population of 2.5 million had been reduced by evacuations, bloodshed, and starvation. Salisbury brings to life the harrowing experiences of ordinary men and women who managed to survive with their dignity and devotion to civilization intact. The book casts an ironic shadow forward to the ordeal of Ukraine's city dwellers today. And if you want to understand Vladimir Putin—whose childhood was shaped by family traumas in wartime Leningrad…
Wendy Z. Goldman
After the German army encircled Leningrad, Hitler vowed that he would let the city starve to death. Leningrad, blockaded for 900 days in the longest-running siege in modern history, lost almost one million people to starvation. Salisbury tells the gripping story of the siege, following the lives of survivors, their families, friends, and neighbors. He brings us into the icy, darkened apartments, where the dead lay unburied and the daily bread ration, wrung from the city's remaining food stocks and deliveries hauled over the treacherous ice of Lake Ladoga, became the only link to survival.