Suicide of the Empires
By Alan Clark,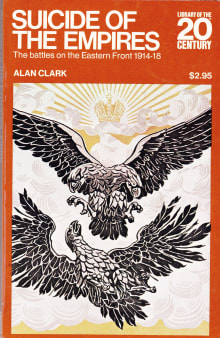 Book description
On the outbreak of war in 1914, the armies of the western front soon became bogged down in the mud at Flanders. But on the wide plains and forests of Eastern Europe the three great Empires - Russia, Germany and Austria-Hungary - grappled in a series of battles involving millions…
Why read it?
1 author picked Suicide of the Empires as one of their favorite books. Why do they recommend it?
Adam Hochschild
This book brings to life a part of the war Western readers know far too little about: the vast battles that ranged back and forth across Eastern Europe and Russia. Two of the three armies involved, those of Tsarist Russia and Austria-Hungary, were spectacularly incompetent, and saw their soldiers needlessly slaughtered by the millions before these two empires dissolved under the war's impact.