Straight Up or on the Rocks
By William Grimes,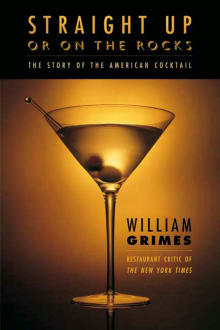 Book description
The cocktail is as old as the nation that invented it, yet until this entertaining and authoritative account, its story had never been fully told. William Grimes traces the evolution of American drink from the anything-goes concoctions of the Colonial era to the frozen margarita, spiking his meticulously researched narrative…
Why read it?
1 author picked Straight Up or on the Rocks as one of their favorite books. Why do they recommend it?
Cecelia Tichi
Order a Martini (straight up, or with ice chiming against the glass), then settle with this charming book and the "quintessential cocktail" that merits its own chapter in the imbiber's US history tour. Grimes wears learning lightly while pointing out the cultural vagaries over four centuries of pleasurable distillation, brewing, and fermentation. Who knew the American Revolution was first fomented in 1700s village taverns? Or that the familiar Gilded Age "Bronx" (named by the Waldorf-Astoria's master mixologist) was the very first cocktail to use fruit juice?
Author Grimes chides the 1960s Yuppies (a.k.a. young urban professionals) for purist insistence on…