Stella Brings the Family
By Miriam B. Schiffer, Holly Clifton-Brown (illustrator),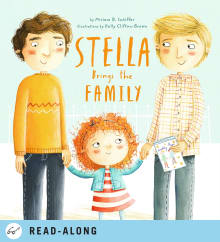 Book description
Stella's class is having a Mother's Day celebration, but what's a girl with two daddies to do? It's not that she doesn't have someone who helps her with her homework, or tucks her in at night.
Stella has her Papa and Daddy who take care of her and a whole…
Why read it?
2 authors picked Stella Brings the Family as one of their favorite books. Why do they recommend it?
Meryl G. Gordon
Stella has two daddies. Who can she bring to school as her special guest for the Mother's Day party? A classmate asks who kisses her when she is hurt. She lists Papa, Daddy, Nonna, Aunt Gloria, Uncle Bruno and Cousin Lucy. Another classmate suggests that she bring them all! And she does. Another lovely story, charmingly illustrated by the same artist who illustrated my book, about how love makes a family, this one with two dads instead of two moms.
Carol Gordon Ekster
This is the story of Stella's stress when her teacher announces they'll be having a celebration for Mother's Day. Stella has two dads! All works out when she invites the biggest crowd of all, including Nonna and an uncle and aunt. It's a great book to share to open a discussion about diverse families, love, and acceptance. The illustrations are expressive and adorable.