Proof of Heaven
By Eben Alexander,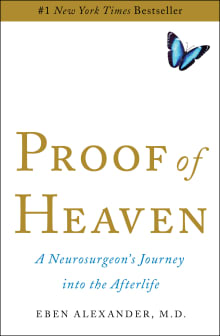 Book description
Internationally acclaimed neurosurgeon Dr Eben Alexander always considered himself a man of science. His unwavering belief in evidence-based medicine fuelled a career in the top medical institutions of the world. But all this was set to change. One morning in 2008 he fell into a coma after suffering a rare…
Why read it?
2 authors picked Proof of Heaven as one of their favorite books. Why do they recommend it?
Star Bradbury
Written by a neurosurgeon who had absolutely no faith or belief in an afterlife, he made an about face after a life-threatening coma and a near-death experience.
This book is his own personal story and truly, it is both inspiring and life changing for the reader. His views on the purpose of life after this experience is so uplifting! 
Devesh Dahale
Every once in a great while, something remarkable happens and lets us learn about life in a different dimension than what we are used to. This book is penned by an author who is a neurosurgeon and who had a near-death experience upon falling critically ill with meningitis. I love this book because of the author's ability to use his profound knowledge gained by his own near-death experience to unravel the deepest and most insightful meaning of life and its secrets. The lessons learned from the author's own experience of the fusion of the spiritual and scientific self is well…