Orphan Train
By Christina Baker Kline,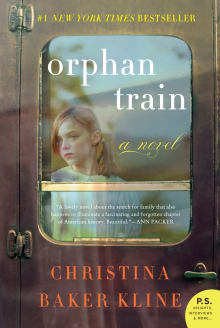 Book description
The #1 New York Times Bestseller
"A lovely novel about the search for family that also happens to illuminate a fascinating and forgotten chapter of America's history. Beautiful."—Ann Packer
Moving between contemporary Maine and Depression-era Minnesota, Orphan Train is a powerful novel of upheaval and resilience, of second chances, and…
Shepherd is reader supported. We may earn an affiliate commission when you buy through links on our website. (learn more)
Why read it?
3 authors picked Orphan Train as one of their favorite books. Why do they recommend it?
G. Elizabeth Kretchmer
I love reading historical fiction to learn about nuanced aspects of society that we didn't learn in history books, and Orphan Train is a novel that delivers along these lines. I had no idea that orphans or otherwise abandoned children were shipped west on trains during the latter part of the 19th century and the early years of the 20th century, sometimes to be adopted by loving families but other times to be forced into what was essentially indentured servitude. I'd like to think that my novel also enlightens the reader about lesser-known events, such as the flight…
Meredith Jaeger
I love books that focus on little-known aspects of American history. Orphan Train highlights the "orphan trains" that ran from East Coast cities to the farmlands of the Midwest from 1854 to 1929, carrying thousands of abandoned children. Some were adopted by loving families while others faced a much crueler fate. This novel takes place in 2011 Maine, where Molly is close to aging out of the foster care system, and she must help an elderly woman, Vivian, as a form of community service. It's also told from Vivian's perspective as a young Irish immigrant in 1929, New York, sent…
Jacci Turner
I hesitated to put Orphan Train in this category because it is not really, in my opinion, middle-grade fiction. When I saw it listed as such in Barnes and Noble, I was quite shocked. It deals with a historical fact, that "Between 1854 and 1929, so-called orphan trains ran regularly from the cities of the East Coast to the farmlands of the Midwest, carrying thousands of abandoned children whose fates would be determined by pure luck. Would they be adopted by a kind and loving family, or would they face a childhood and adolescence of hard labor and servitude?"…