One-Dimensional Man
By Herbert Marcuse,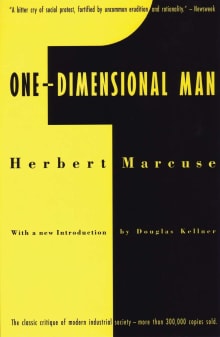 Book description
Originally published in 1964, One-Dimensional Man quickly became one of the most important texts in the ensuing decade of radical political change. This second edition, newly introduced by Marcuse scholar Douglas Kellner, presents Marcuse's best-selling work to another generation of readers in the context of contemporary events.
Why read it?
2 authors picked One-Dimensional Man as one of their favorite books. Why do they recommend it?
Todd McGowan
This is the one classic text on my list. Marcuse's book was like a bible to protesting students in the 1960s, and its critique of the psychic levelling that occurs under capitalism remains just as germane today, if not more so. This is the most successful marriage of Freud and Marx that emerged from the famous Frankfurt School, which was a group of cultural Marxist invested in psychoanalysis. Marcuse grasps how capitalism employs technology to ensure its psychic dominance. 
Arshin Adib-Moghaddam
One of the books that has made the biggest impression on me and which I applied to my studies far beyond its original locus as the pamphlet for the 68' generation in post-war Germany. Marcuse became the celebrated spokesperson of a whole generation as a part of the glorious "Frankfurt School" and along with luminaries such as Theodor Adorno and Max Horkheimer. In this damning indictment of capitalist excess, Marcuse's ideas chime with those of al-e Ahmad (see above), as both of them foresaw the demise of culture and value under the heavy burden of profit-driven production. I read this…