Night Soldiers
By Alan Furst,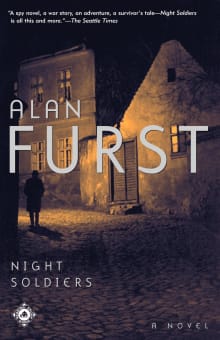 Book description
Bulgaria, 1934. A young man is murdered by the local fascists. His brother, Khristo Stoianev, is recruited into the NKVD, the Soviet secret intelligence service, and sent to Spain to serve in its civil war. Warned that he is about to become a victim of Stalin's purges, Khristo flees to…
Shepherd is reader supported. We may earn an affiliate commission when you buy through links on our website. (learn more)
Why read it?
3 authors picked Night Soldiers as one of their favorite books. Why do they recommend it?
Richard Powell
God help me, along with my fascination with espionage I am a history buff. I long to discover how things became what they are today and Furst does it in this series. While seeing the forces that launched the Second World War unfold, he shows you see the seeds sown for the cold war that follows. While I picked book one from my bias toward watching a world being born, all the books in the series are a great read.
Stephen Holgate
Alan Furst has long mined a rich vein of espionage stories centered in France and Central Europe under the shadow of Adolph Hitler. Unlike the weary cynics of John Le Carre and other authors, Furst's spies are doomed idealists trying to stop an avalanche. Night Soldiers carries the claustrophobic menace of a vampire story and the sweep of an epic as we follow its protagonist across Europe before and during the great struggle. A great introduction to Furst's work.
Mary Kathryn Barbier
Night Soldiers is the first in the Night Soldiers novel series written by Alan Furst. This is a novel that I assigned to one of my classes, and my students really liked it. Furst wove a complicated story that followed the main character – Khristo Stoianev – from before the war when he was recruited to join the Soviets' NKVD, to spy training, a mission to Spain during the Civil War, to betrayal and finally his efforts to escape from the bondage imposed by his Soviet masters. I recommend this book not only because my students enjoyed it, but also…