New and Selected Poems
By Mary Oliver,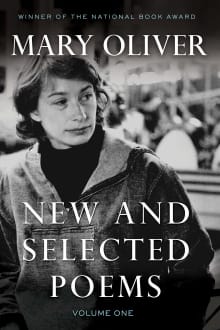 Book description
Mary Oliver was awarded the National Book Award for New and Selected Poems, Volume One. Since its initial appearance it has become one of the best-selling volumes of poetry in the country. This collection features thirty poems published only in this volume as well as selections from the poet's first…
Why read it?
2 authors picked New and Selected Poems as one of their favorite books. Why do they recommend it?
Kyle Meyaard-Schaap
I used to think things like beauty, joy, and affection were indulgences that I just didn't have time for if I was going to solve the climate crisis.
I used to do my climate work bare-knuckled and through gritted teeth. And I burned out. Fast.
Then I had a friend suggest to me that I read Mary Oliver.
I've since come to understand that meditation and contemplation on the beauty of creation, on the joy and delight of being in communion with it, and on the affection that God has for all his handiwork are necessary ingredients for sustained, effective…
Judy Croome
Like nature itself, poetry allows quiet reflection and a deep peace into our lives. Like Mary Oliver, I too, find an almost divine rapture in the sheer glory of Nature's elemental wildness. In this collection, Oliver's mystical connection to nature combined with her simple language and clear imagery create poems that are profoundly beautiful. During these past years of the global pandemic lockdown, I was unable to restore my soul by visiting the South African wilderness that is so close to the city I live in. Instead, through contemplation of Oliver's poetry and writing my own, I was able to…