Narrative of the Life of Frederick Douglass, an American Slave
By Frederick Douglass,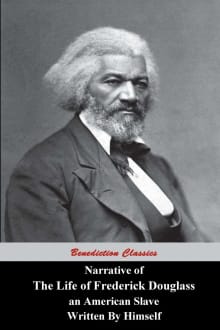 Book description
Packaged in handsome and affordable trade editions, Clydesdale Classics is a new series of essential literary works. From the musings of literary geniuses like Mark Twain in The Adventures of Huckleberry Finn to the striking personal narrative of Harriet Jacobs in Incidents in the Life of a Slave Girl, this…
Why read it?
3 authors picked Narrative of the Life of Frederick Douglass, an American Slave as one of their favorite books. Why do they recommend it?
Mark Rennella
While writing a paper about Douglass in graduate school in the 1990s, I learned that he had to overcome two obstacles to establishing an authentic voice in his own book.
First, abolitionists argued against slavery by claiming it dehumanized the slave. While that could be true, this theory could not account for charismatic Black writers like Douglass who were anything but dehumanized. Second, slave narratives in the antebellum era often followed a certain formula that limited the narrator's originality.
In one striking passage in the Narrative, Douglass overcomes both restrictions by evoking an image of his body that offers…
Patrick Bringley
Douglass wrote his Narrative when he was just twenty-seven years old, depicting one of the most consequential of all American workplaces, the Southern plantation.
The story is sobering while the prose is poetic and haunting. My favorite history teacher re-read it every year along with students, but we could have easily read it in an American literature class.
At less than a hundred pages, you could read it in a day, but you're likely to meditate on its weightier moments.

Laurence Fenton
Anyone wishing to explore the remarkable life of Frederick Douglass needs to start with his own writings, in particular his 1845 autobiography Narrative of the Life of Frederick Douglass, an American Slave, the book that shot the young abolitionist to fame. While far from the first enslaved person's narrative to have been printed, it was the best-written and most precise in detail, mixing scenes of great emotional warmth with brutal outrages that shocked contemporary readers. It also revealed Douglass's real name (Frederick Bailey), leading to death threats and fears of recapture. Having decided to leave America until the furore…