Mutual Causality in Buddhism and General Systems Theory
By Joanna Macy,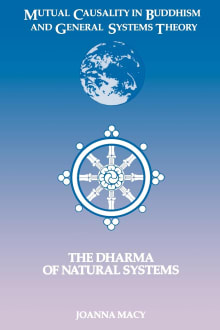 Book description
Coming soon!
Shepherd is reader supported. We may earn an affiliate commission when you buy through links on our website. (learn more)
Why read it?
2 authors picked Mutual Causality in Buddhism and General Systems Theory as one of their favorite books. Why do they recommend it?
Yuha Jung
This book spoke to me as a scholar of systems theory and due to my upbringing in Buddhist culture. Macy discusses how core teachings of interdependence in Buddhism and the mutual causation concept of general systems theory are similar. This book emphasizes the interdependent relationships among different people, things, societies, and ecosystems as mutually affecting and not unidirectional, leading to and encouraging collective action toward mutual benefits. I also love this book because it can introduce readers to philosophical thoughts that are other than Western, which we tend to be bombarded with in academic publications and education in the US. 

Don Weiner
I have come to understand that everything we know is by means of our relationship to whatever we are experiencing. This book describes a wonderful principle of Buddhism called mutual or dependent co-arising, which means that everything is the cause of everything else. This seems to me to be consistent with the findings of quantum physics, in which time is not what we think it is. There is a phenomenon called retrocausality, which means that something in the present can affect something in the past. On a deep level, everything is interconnected with everything else, and has an effect on…