Mistakes Were Made (But Not by Me)
By Carol Tavris, Elliot Aronson,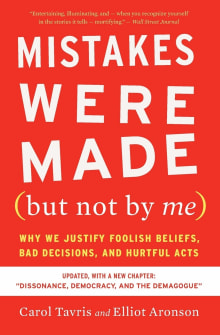 Book description
Renowned social psychologists Carol Tavris and Elliot Aronson take a compelling look into how the brain is wired for self-justification. This updated edition concludes with an extended discussion of how we can live with dissonance, learn from it, and perhaps, eventually, forgive ourselves.

Why is it so hard to say…
Why read it?
3 authors picked Mistakes Were Made (But Not by Me) as one of their favorite books. Why do they recommend it?
David P. Barash
Two renowned social psychologists show how people—some famous and some not—avoid taking responsibility for their blunders.
By the book''s end, we see how we avoid admitting our missteps, and aware of how much our own (and everyone's) lives would improve if we could simply say, ''I made a mistake. I'm sorry."

Ronny Kohavi
A theme in the book is that "Most people, when directly confronted by evidence that they are wrong, do not change their point of view or course of action but justify it even more tenaciously."  
In software, we have conclusive data from tens of thousands of online controlled experiments (A/B tests) that most (~80%) ideas and features proposed fail to improve the metrics they were designed to improve. 
The book walks us through great examples on the cognitive dissonance that occurs when our perceived expertise clashes with the sobering reality of failure—humbling. The key, of course, is to think…
Jenny Grant Rankin
We resist and "explain away" any information that makes us feel wrong, immoral, or stupid. That's how cognitive dissonance works. It also means we overvalue information that makes us feel right, and it's the reason things like the political divide worsen between people as they age, and worsen in our country over time. Tavris and Aronson keep their own cognitive dissonance in check in a masterful balance between both conservative and liberal examples of mental mechanics at play in real life. Though the topic-based chapters invite you to jump around, I strongly advise reading from start to finish, as not…