Like a Love Story
By Abdi Nazemian,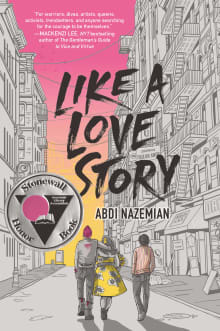 Book description
Stonewall Honor Book * A Time Magazine Best YA Book of All Time
"A book for warriors, divas, artists, queens, individuals, activists, trend setters, and anyone searching for the courage to be themselves."—Mackenzi Lee, New York Times bestselling author of The Gentleman's Guide to Vice and Virtue
It's 1989 in…
Why read it?
2 authors picked Like a Love Story as one of their favorite books. Why do they recommend it?
David Valdes
So often, queer history is told through the lens of adults, as if young gay people didn't exist.
In Like a Love Story, the late 80's AIDS era is seen through the lens of closeted Iranian teen Reza, who finds himself caught between a best friend and potential love interest, all while feeling haunted by the disease that is killing so many gay people. The shadow of the disease takes a toll but the book leans into the possibility of risking intimacy even so, providing Reza with a chance at his own future happy ending.
Robin Stevenson
This is one of my all-time favorite YA novels. Set in NYC in 1989, at the height of the AIDS epidemic, it tells the story of three teens: an Iranian boy who is just realizing he is gay, a fashion-designing girl who loves him, and an out gay teen from a conservative family. Speaking as someone who remembers those years very well, the portrayal of these characters rings true: gay identity, AIDS, and homophobia were so tangled up together for us as young adults. This is a very beautiful book about love, friendship, activism, community, and families—the ones we are…