Kristin Lavransdatter
By Sigrid Undsett,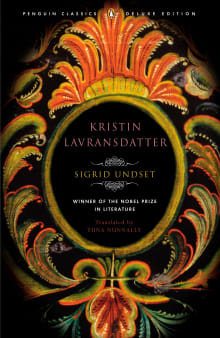 Book description
'[Sigrid Undset] should be the next Elena Ferrante' -Slate

The Nobel Prize-winning masterpiece by Norway's literary master

Kristin Lavransdatter is the epic story of one woman's life in fourteenth-century Norway, from childhood to death. Sensitive and rebellious Kristin is sent to a convent as a girl, where she meets the…
Why read it?
2 authors picked Kristin Lavransdatter as one of their favorite books. Why do they recommend it?
Bonnie Stanard
When I discovered Kristin Lavransdatter was 1000 pages, I never expected to fininsh it (I'm a slow reader). However, about 50 pages into it, I was hooked and was at a loss when I read the final chapter. Religion is pervasive but delivered indirectly. The Catholic Church in the Middle Ages was an absolute authority with an iron grip on the main character Kristin. Undset was not judgmental in the book, but I was in reading it. 
Alma Alexander
This is an older book, and as such the tone and style of it might be a chore to some of the more modern readers – but Undsett is a Nobel Prize winner in Literature for a reason, and for me, the rich historical setting of the Norway of Middle Ages and Kristin herself, the eponymous heroine of the novel, are more than enough. I first read this book when I was very young and it had a deep impact on me even then – and I've returned for occasional re-reads in the years that followed that first encounter, finding…