Know Your Shit
By Shawn Shafner, Rebecca Pry (illustrator),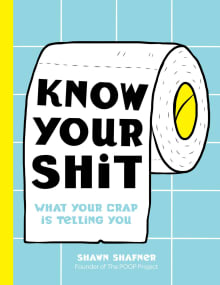 Book description
Pushing For Change from the Bottom Up!

Poop is a big deal. All people and all beings do it on any good day. It's basically at the center of everything. Know Your Shit lifts the lid off the potty taboo and breaks the stall doors down in search of the…
Why read it?
2 authors picked Know Your Shit as one of their favorite books. Why do they recommend it?
Bryn Nelson
Shawn is fearless, good-hearted, and laugh-out-loud funny.
As an educator, performance artist, and founder of the POOP Project, he has dedicated much of his work to reducing the taboo and stigma of talking about our own bodies, especially the natural act of pooping. Mixing in his trademark humor with historical anecdotes and a genuine love of both people and the planet, this book will make you smile, laugh, and feel a deeper connection with a part of your body that deserves far more attention.
It's a very fun and inspiring read about rejecting shame and celebrating your own inner power. 
Lina Zeldovich
This book will break any remaining taboos around the topic. Full of delectable bodily humor and poopy puns, it unveils the science of our guts and the substance it produces in a manner digestible by anyone, from children to teenagers to adults. I liked how it explains—with endless witticisms—what causes intestinal mishaps like constipation and diarrhea, and how to find your "goldiplops zone" of the perfect poo. It also instructs you to heed what your feces are telling you before you flush and summons you to love your anus because without one you'd be in deep shit. It is a…