Keturah and Lord Death
By Martine Leavitt,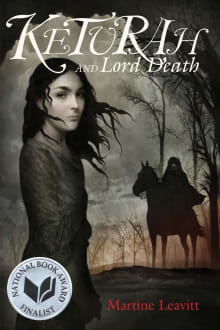 Book description
National Book Award Finalist

A young woman makes a bargain with Death himself-and only true love can set her free-in this spellbinding YA fantasy romance for fans of Robin McKinley.

For most of her sixteen years, beautiful Keturah Reeves has mesmerized the villagers with her gift for storytelling. But when…
Why read it?
2 authors picked Keturah and Lord Death as one of their favorite books. Why do they recommend it?
Maria Vale
Leavitt's story is a fairytale and like all good fairytales, there is a handsome prince except this one is played by Lord Death himself.
I love Keturah. She is brave enough not to be afraid and big-hearted enough to see beyond Death's terrifying purpose to the underlying sadness of the feared and hated outsider. Through the course of the book, she also comes to appreciate the meaning he brings to life.
"It was Death who…made her see the sun in the blue sky and hear the trees in a spring wind. He made her see how much she loved her…
Alyssa Wees
When Death comes for Keturah after she follows a hart into the woods and becomes hopelessly lost, she tells the stern but handsome Lord Death a story that grants her a reprieve for twenty-four hours. In that time, she must find her true love or else be carried away by Lord Death on his dark horse when her time is up. In beautiful, straightforward prose, this short novel feels like a true fairy tale of old, haunting and romantic, sad and full of hope. I've read this book so many times now that I've lost count, but the final scenes…