Human Rights and Their Limits
By Wiktor Osiatyński,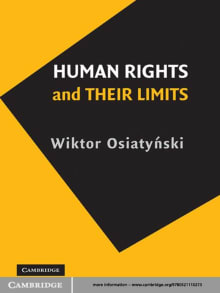 Book description
Human Rights and their Limits shows that the concept of human rights has developed in waves: each call for rights served the purpose of social groups that tried to stop further proliferation of rights once their own goals were reached. While defending the universality of human rights as norms of…
Why read it?
1 author picked Human Rights and Their Limits as one of their favorite books. Why do they recommend it?
Michael Freeman
Wiktor Osiatyński was a distinguished Polish constitutional and human rights lawyer who died in 2017 and who, among many other achievements, contributed to the drafting of the post-Communist constitution of Poland. He was a member of the board of the Open Society Foundation and a greatly admired teacher of human rights. Human Rights and Their Limits is one of the most carefully balanced accounts of human rights available in English. Osiatyński argues against human rights absolutism, pointing out that excessive respect for rights can undermine the democracy that is the precondition of rights protection, and that rights have to be…