Human Rights and Gender Violence
By Sally Engle Merry,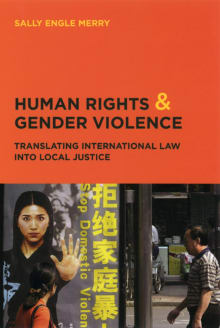 Book description
Human rights law and the legal protection of women from violence are still fairly new concepts. As a result, substantial discrepancies exist between what is decided in the halls of the United Nations and what women experience on a daily basis in their communities. "Human Rights and Gender Violence" is…
Why read it?
1 author picked Human Rights and Gender Violence as one of their favorite books. Why do they recommend it?
Michael Freeman
The initial reaction of anthropologists to the UN's proposal for a universal declaration of human rights was to question it on the ground that it might be no more than an expression of the cultures of the world's dominant powers. Human rights universalism was opposed by cultural relativism, the idea that no or few values are universally valid as values derive from particular cultures. Anthropologists then discovered that the cultural groups that they typically studied – `indigenous' peoples – often suffered the most serious human rights violations and that ignoring this was ethically and scientifically unacceptable.
Although many anthropologists are…