How to Write One Song
By Jeff Tweedy,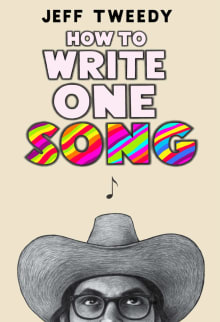 Book description
A ROUGH TRADE and PITCHORK BOOK OF THE YEAR

'A guide to rediscovering the joys of creating that we all felt as children.'
NEW YORK TIMES

One of the century's most feted singer-songwriters, Wilco's Jeff Tweedy, digs deep into his own creative process to share his unique perspective about song-writing…
Why read it?
2 authors picked How to Write One Song as one of their favorite books. Why do they recommend it?
R. P. Rioux
Unless you plan on exclusively being a cover group, you're going to have to come up with your own songs eventually. Their quality, or lack thereof, will absolutely make or break your band. Jeff Tweedy of Wilco and Uncle Tupelo fame discusses the process of writing a song from beginning to end.
The route he takes leans more philosophical than towards the nitty-gritty details of music theory. He encourages you to be less self-critical, illustrates how to draw inspiration from personal experiences, and notes the importance of infusing your everyday life with creativity. One of my own book's main characters…
Stephanie Storey
This is not just a book for songwriters. This is a book for anyone who has ever created – or anyone who has ever dreamed of creating – any piece of art. I don't care if you're a writer, actor, dancer, painter, architect, or weekend crafter, this book will inspire you to approach your art in new, creative ways. Whenever I'm feeling stuck or down on my own creative output, I return to this book to find new gems in its prose to inspire me. Tweedy's love for what he does is contagious, but it's his embracing of the mystery…