How to Raise an Adult
By Julie Lythcott-Haims,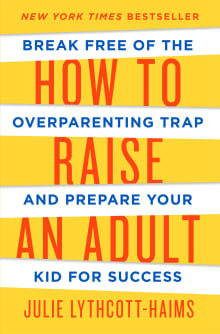 Book description
Across a decade as Stanford University's dean of freshmen, Julie Lythcott-Haims noticed a startling rise in parental involvement in students' lives. Every year, more parents were exerting control over students' academic work, extracurricular, and career choices, taking matters into their own hands rather than risk their child's failure or disappointment.…
Why read it?
3 authors picked How to Raise an Adult as one of their favorite books. Why do they recommend it?
Mark E. Crawford
Julie was a former Dean of Students at Stanford University. She shares how she realized that she was working with kids who had "checked every box" and earned acceptance to one of the most selective universities in the world. However, she could not help but notice that despite their stellar list of achievements and impressive resumes, they sorely lacked the skills necessary to transition to the adult world of navigating normal roommate conflicts or even making minor decisions without the help of their parents.
This book is a great reminder that as parents, our ultimate goal is to prepare our…
Andrea Malkin Brenner
Lythcott-Haims, former Dean of Students and Admissions at Stanford University, offers an exceptional parenting book that encourages parents to do less, not more for their children. The book takes on the negative outcomes that "helicopter parenting" has on children as they reach adulthood. The author backs up her messaging with solid research and personal interviews. She explains where students fail to thrive in college, and discusses the role that parents play by shielding their children from college-readiness, including learning to make mistakes and solve their own problems. This is a guidebook that encourages parents to allow their children independence and…
Sara Zaske
A former Stanford dean, Lythcott-Haims saw many intelligent but fragile college students. While they were high achieving students, they had been escorted by their parents from "milestone to milestone," and as young adults, they were unprepared to deal with challenges themselves. Some had trouble even making their own decisions without consulting their parents. This book not only reveals the problems with overmanaging kids' school work but provides practical advice on how to give kids the space they need to learn how to manage their own lives.