How Children Succeed
By Paul Tough,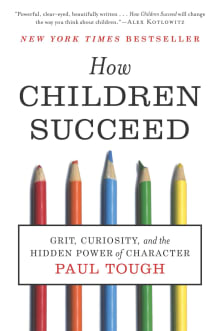 Book description
Why character, confidence, and curiosity are more important to your child's success than academic results. The New York Times bestseller. For all fans of Oliver James or Steve Biddulph's Raising Boys, Raising Girls, and The Complete Secrets of Happy Children.

In a world where academic success can seem all-important in…
Why read it?
3 authors picked How Children Succeed as one of their favorite books. Why do they recommend it?
Nate G. Hilger
As a writer, I admire this book as a great work of creative nonfiction. The book uses captivating stories and research to make a deep point with bipartisan appeal. Yes, "character" matters. That impulse to exert effort, that strength to persevere through challenges, that discipline and self-control, and patience – all the stuff that many people especially on the Right celebrate as "personal responsibility" can and does drive success. But where does "character" come from? Mostly it doesn't come from individual choices or innate endowments determined at birth. It comes from environmental influences – opportunities and safeguards we provide for…
Efrem Sigel
In this book, one of half a dozen he has written about education, Tough delves widely into the research of economists, pediatricians, psychologists, and neuroscientists to focus on often overlooked issues that affect success in education and life: the mother-child relationship; the level of trauma experienced by children in poor, sometimes chaotic homes; and character traits like conscientiousness, grit and the willingness to try and fail.

Sara Zaske
If we want to break through America's overparenting culture, it might help to redefine the rather narrow definition many of us have of success. Using research and real-world examples, Tough shows that a pure focus on grades and other external markers of success actually fails kids in the long run. Instead, he looks at ways that foster intrinsic characteristics that help children become resilient adults who are able to overcome difficulties and succeed at whatever they decide to do.