Hawk Mountain
By Conner Habib,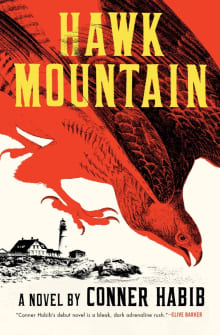 Book description
Single father Todd is relaxing at the beach with his son, Anthony, when he catches sight of a man approaching from the water's edge. As the man draws closer, Todd recognizes him as Jack, who bullied Todd relentlessly in their teenage years but now seems overjoyed to have "run into"…
Why read it?
1 author picked Hawk Mountain as one of their favorite books. Why do they recommend it?
Michael Kiggins
Habib's novel is an interesting and disturbing debut following a single father who unexpectedly reconnects with a former bully who has ulterior motives.
The first part of the novel jumps back and forth between their high school days and the present, leading to a moment of shocking violence. It's the aftermath of that violence and how the protagonist deals (or fails to deal) with it that stands out the most, leading to a gut-wrenching conclusion.